Su Taqueria El Rey Del Taco y Mariscos
7138 N Clark St, Chicago, IL 60626
Order now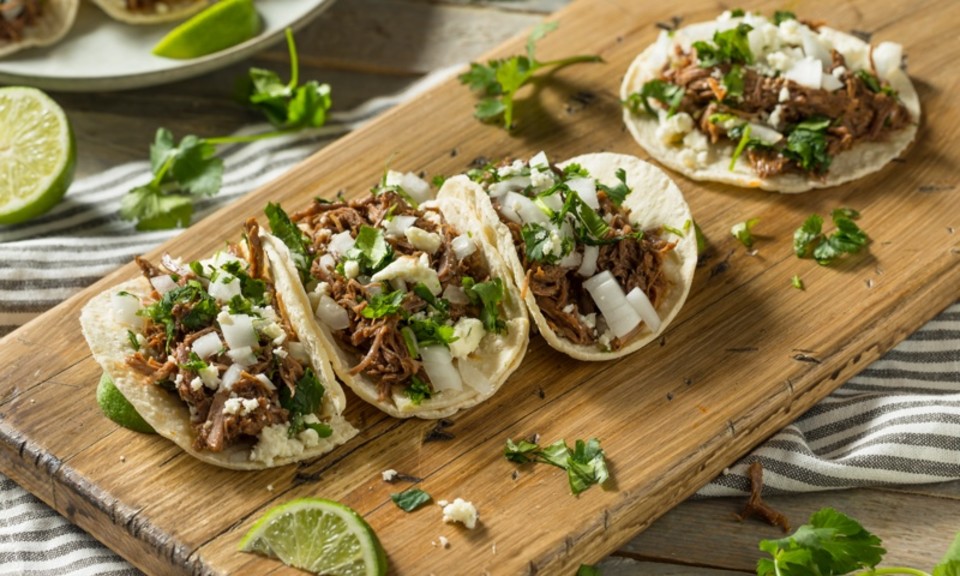 Michelle
Ok, so, I am one in a crowd of the hangover foodies... I know good food. I MAKE GOOD FOOD! But 2night I found myself hungover and tired. I am a CALDO fanatic, make them ALL myself. This place has the most succulent, fresh, authentic CALDO DE POLLO I have EVER ordered in the north side of Chicago (8+years). I also ordered TACOS DE CARNE ASADA and that's exactly what I got! Real carne asada. Charred, soft, well seasoned, perfect beef in a yellow corn tortilla. I AM BEYOND PLEASED BECUZ I HAVE BEEN LOOKING FOR A PLACE LIKE THIS FOR YEARS! PLEASE PLEASE PLEASE DON'T CHANGE! MAKE MY CALDO THE SAME! MAKE MY CARNE ASADA TACOS THE SAME... TASTY, CLEAN, FRESH.. YU?MMMMMMM.! (only side note, is please give me MORE salsa next time)
Don
Websters dictionary defines tacos as a Mexican dish consisting of a fried tortilla, typically folded, filled with various mixtures, such as seasoned meat, beans, lettuce, and tomatoes. But i stand here a thousand reviews deep. To tell you. This place makes more than tacos. They make FIRE. For you mouth. And some extra love for the soul. Do. It. Order. Now. Why are u still reading this? Get the el pastor and steak. .. trust me... Donny would never steer u wrong baby
Bradley
We've ordered from here twice now and both times the food was fresh and delicious. The first time we tried delivery, it was on time and the food still tasted fresh, they included slices of lime to freshly squeeze on my fajitas. The second time we picked up on our way home and the restaurant is very clean, the staff inviting, we almost wanted to stay.
Cordell
I was EXTREMELY OFFENDED to have been asked to sign a document confirming I placed and I am the person picking up an order placed through Grubhub.

It would have been less degrading to have asked for my I.D.

Because of this experience, I will not order from here again. Though to be fair, the food is GREAT!
chase
The Bistec Burrito is great and they're always on time. Side note: If you go to the restaurant to take out, they'll give you chips, salsa, and soup while you wait. It's pretty awesome. Definitely my go-to mexican restaurant.
Melody
I ordered pozole with a side of avocado. My delivery was on time per the delivery window, and the man that delivered my food was VERY nice and professional. The soup itself was good. Seasoned well and no grease like you see with a lot of other pozole. Also, there was a good amount of meat, and not a bunch of fatty pieces. I will definitely order from here again.
David
Steak was fresh and reminded me of a place that closed in my old neighborhood.
Kathy
Great food, delivery faster then even stated.
About us
Breakfast, Dinner, Lunch Specials, Mexican
Today

Delivery: 10:00 AM - 10:45 PM

Takeout: 10:00 AM - 10:45 PM

Delivery

Monday:

10:00 AM - 10:45 PM

Tuesday:

10:00 AM - 10:45 PM

Wednesday:

10:00 AM - 10:45 PM

Thursday:

10:00 AM - 10:45 PM

Friday:

10:00 AM - 10:45 PM

Saturday:

10:00 AM - 10:45 PM

Sunday:

10:00 AM - 10:45 PM

Takeout

Monday:

10:00 AM - 10:45 PM

Tuesday:

10:00 AM - 10:45 PM

Wednesday:

10:00 AM - 10:45 PM

Thursday:

10:00 AM - 10:45 PM

Friday:

10:00 AM - 10:45 PM

Saturday:

10:00 AM - 10:45 PM

Sunday:

10:00 AM - 10:45 PM